The church is named for Jan Hus, a 14th Czech priest, theologian, and proto-Protestant reformer, who was famously tried and executed on heresy charges by the Council of Constance in 1415.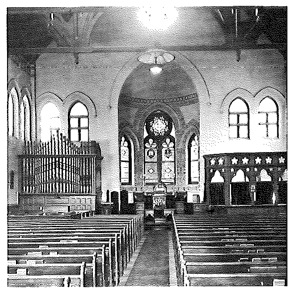 The foundations for the church that would become JHPC began in 1877, in an area of New York City that was then known as Little Bohemia, when Rev. Gustav Albert Alexy, a Hungarian missionary, felt a calling to work among the Czech community. Alexy borrowed the sanctuary of a German congregation to conduct New York City's first worship service in the Czech language. From that initial gathering of 18 adults and 22 children grew The First Evangelical Bohemian Presbyterian Church, joining the presbytery in 1877 with Alexy as the inaugural installed pastor. The church building on 74th Street was designed in the Bohemian Gothic Revival style by R.H. Robertson and constructed in 1888, bearing the inscription "Truth Prevails," a famous Jan Hus saying.
When Pastor Alexy died in 1880, the newly official Presbyterian Church asked 21-year-old Vincent Pisek to take over as leader. At the turn of the century, Czech families immigrated to America in large numbers, with many settling in communities on the Upper East Side of Manhattan. These new immigrants carried with them stories and legacies of followers of Jan Hus that had been persecuted and forced out of Bohemia over the preceding centuries. Rev. Pisek was "free-thinking" and performed marriages between men and women from different ethnic groups. His enthusiasm to help make these marriages among the immigrant communities in the neighborhood was a part of what helped to build the church in these early years.
With thousands of Czech parishioners when the church started, the congregation has changed greatly with the Czech community dispersing over the years. By the 1950s, Jan Hus Church was no longer predominantly Czech. Jan Hus Church has not had a Czech pastor since the 1960s.
Jan Hus was among the first churches to become an Open and Affirming congregation for the full inclusion of Gay, Lesbian, Bisexual, and Transgender people in church life. The church is now one of many congregations associated with More Light Presbyterians and Presbyterian Welcome.
Today Jan Hus is a growing and diverse mix of people from all walks of life who seek to embody the justice and hospitality of Christ through worship and service. We invite you to join us as we write the exciting next chapters of Jan Hus Presbyterian Church & Neighborhood House's storied history!